November Goals Recap (+ Kiddos Christmas Cheer Packages!)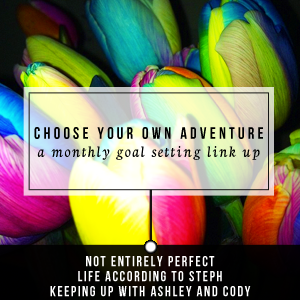 November is officially over, and it's time to share how I tackled it.
I figure that about 3.75 out of 5 of my goals were completed... that's in the B range. I'll take it.
My November Organizational goals:
Holiday gifting:

Have a full December action plan for projects/present making. Order everything if I am ordering anything. Get mailing addresses for out of town family.

50% Success:


Well.... I tried. I didn't order anything, but I have a full gameplan.... As of last night. Last minute still counts! It's a partial win.

Holiday cheer

:

Prep little packages of "YAY IT'S DECEMBER!" goodness for the munchkins--at least the ones big enough to understand. I'm thinking.... Thunderpeep letter to santa kit, some sort of Advent Calendar, and a box of cookies from my (first ever!) cookie exchange. Yea... Simple but sweet.

100% Success:


Adorable little packages were delivered last night to my munchkins. I opted for a printable Countdown to Christmas framed and paired with a dry erase marker rather than an advent calendar. My rationale being that I probably should warn the parents before providing their kiddos with 24 days of awesome advent calendar goodness that I won't necessarily have a hand in. There's always next year for that.






So, in my final packages were....
1) Thunderpeep Letter to Santa Kit
2) Free countdown printable from The Taylor House

(

here) and
3) Chocolate Moose Lollies

from

The Chocolate Cow

in Thunder Bay (well, Slate River... but close enough).

Home office:

It's time to toss, sort and shred. My piles of crap have gotten out.of.con.trol. I might not be able to upgrade the folding table just yet, but I can definitely get rid of my "to shred" box and get some floor space back.



100% Success:
I tossed, sorted, shredded and organized a whole bunch of bills. Suddenly all my mortgage papers are in the same place for the first time in three years. It feels good!!

As you can see here via Instagram, I went a little further than I intended.... but oh well. All it did was distract me from my fifth goal.... So I consider that well balanced enough.




Clutter control: I have a terrible tendency to make "outboxes" and never move them. I have about five boxes of clothes, home decor, kitchen gadgets etc. ready to go to goodwill, but have been too lazybusy to actually bring them to the donations bin. This is a good month to get those space suckers out of the house.

100% Success:
I got rid of a decent pile of crap this weekend. Wowzers. I even sorted through more stuff once this was loaded in the car (read: out of my kitchen). Don't believe me? I instagrammed it for evidence:




2014 Goals Completion: I would feel much more organized if I were able to cross the room reveals off of my 2014 goals list this month---the Craft Room and Guest Room. They have been basically finished for long enough that they are messy and lived in looking. Which ain't great for blog photo purposes. I think this month I will aim to cross off at least ONE from the "to-be-blogged" list and, therefore, consider it complete for my year's goal list. I would even be happy with just the pictures part, if I'm being honest. So really---this goal is as simple as "clean your house". Easier said than done?

25% Success:
I cleaned the room but messed it up again by making the munchkin's Christmas Cheer packages. Whoops!! I will clean it up so it's blogworthy after Christmas... maybe. But I am still giving myself partial credit for the cleaning part! This is not a complete fail. I refuse to believe that.
The Choose Your Own Adventure Linkup theme for December is
simplify
. I am absolutely down for that.
Happy Monday!