"My Mom Might Read This" and other Simplify December thoughts...
Happy Wednesday!! I am swooping in to share the following rants, in this order:
Why I'm not blogging my Christmas gifts.
Why I'm not blogging my Christmas decor.
Why this all leads conveniently to the "Simplify December" linkup...
Rant #1: Why I'm not blogging my Christmas gifts.
Year after year I am blown away by the amazing homemade gifts and decorations that make their way onto the blogosphere. Not only are the gifts amazing, but they are prepared in advance and posted on the internet. Publicly. For anyone to stumble upon...
WHOA.
What if someone--hell,
anyone
--in your family loves you enough to follow your blog? You can't blog that sh*t.
Full disclosure: The first year I blogged, I spilled all my Christmas present beans all over the internet. The two people who may have seen those posts were not the gift recipients, so it worked out. And since I have been a fairly inconsistent blogger up until recently, it has remained a non-issue. But my mom dropped the, "I sometimes read your blog" bomb on me semi-recently, and now I need to re-learn how to keep a secret.
So. In order to survive the holidays, I will be posting things I made in previous years. (Some of them were even made in my old house. Most of them were photographed under a tragic yellow lightbulb in my old craft space.) I will write up and post my 2014 Christmas shenanigans in time for Christmas 2015. And repeat. It will feel weird for awhile, but I will make it work. I am stubborn that way.
Rant #2: Why I'm not blogging my Christmas decor.
While all the other bloggers in the blogosphere are working up a Christmas storm in their houses, I am preparing for a baby shower. A baby shower I won't be blogging about for awhile because....
Nobody wants to be the blogger who is ignoring Christmas on their blog.
As per rant #1... what if the shower mama is also reading my blog but not telling me?!
Suffice to say that I will not be
Instagramming
any Christmas decor until this non-Christmas themed baby shower is completed---December 13. Leaving me a whopping 11 days to spread the Christmas cheer around my house. I think this is justification to be extra lazy with my decorating this year.
Which brings me to the next topic....
Rant #3: Why this all leads conveniently to the "Simplify December" linkup...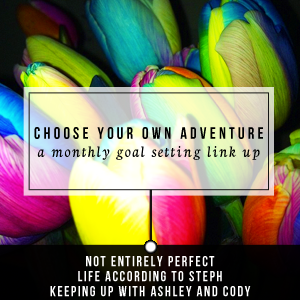 The theme for
December's Choose Your Own Adventure linkup
is
simplify
. Given my rants above, I think a little simplification is overdue. I really should have posted this list with last week's
November recap
... Ah well. Learning curve. I'll get on it in January.
While I was deciding what to simplify, I started making a fairly ridiculous list. Simplify my closet, my tech life, my blogging life, my pantry. Simplifying started seeming not-so-simple. In the end, I decided that maybe the key area in my life worth simplifying is my goals list in and of itself. So I decided to limit myself to three important areas.
My December Simplification goals:
For the holidays:
This needs major paring down. Every year, I make my own stocking stuffers and at least half of my gifts. There are a lot of kids in my family, and we also usually do at least one group gift for a parent. Coordinating a group gift gets to be a headache, frankly, so I plan to avoid that like the plague if it comes up. I also think I will experiment with this foreign concept of buying instead of making all of my stocking stuffers. Also--- gift cards? I have never ever given one before. Maybe now is the time.
Around the house: I know this is bold, but I don't want to overthink the house over the holidays. I think if I can not start a new house related project in December, we are good on this front. I might not even bust out the Christmas tree this year. Holiday spirit to me is more about the smell of comfort foods than twinkling lights or glitter making its way from room to room. If simplifying the home decor means more time spent experimenting with holiday recipes, then I am absolutely down with that.
2014 Goals Completion: After thinking about it, I realize that I made too many goals last year in the first place. Out of fairness to myself, I'm going to reprioritize what's left on the goals list and consider anything ditched a success overall. Because sometimes, accepting that something is not important and letting it go is a success in and of itself. I'll be posting about that soon. (Yeah yeah... I know I'm unreliable with "soon" as a timeline)
I'll be posting my December update at the beginning of January, and linking up on
Not Entirely Perfect
,
Life According to Steph
, and
Keeping up with Ashley and Cody
blogs. January's theme is "Complete" and is a month for finally getting long-deferred items off of the to-do list... I'm definitely due.
Happy Wednesday!